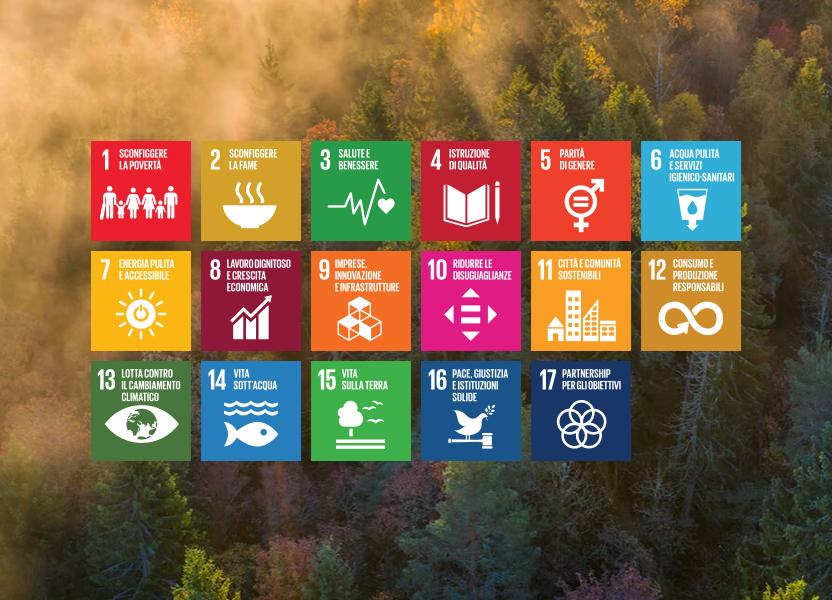 L'Agenda 2030 per lo Sviluppo Sostenibile è un programma d'azione per le persone, il pianeta e la prosperità sottoscritto nel settembre 2015 dai governi dei 193 Paesi membri dell'ONU. 
Essa ingloba 17 Obiettivi per lo Sviluppo Sostenibile (Sustainse Development Goals-SDGs) in un grande programma d'azione per un totale di 169 'target'.
Alperia ha fatto propri tali obiettivi e ha raccolto l'invito all'azione, mettendo ricerca, tecnologie e competenze al servizio della Agenda per lo Sviluppo Sostenibile per la ripresa e la resilienza senza lasciare nessuno indietro.
Consapevoli del ruolo fondamentale dell'energia rispetto alle sfide globali per il rispetto dell'ambiente, vogliamo impegnarci per contribuire alla realizzazione di alcuni dei 17 Obiettivi dell'ONU.
Commitments and objectives
We are aware that energy plays an essential role in meeting global challenges aimed at safeguarding the environment; as such, we are committed to contribute to the achievement of some of the 17 United Nations' Sustainable Goals.
To this end, we have strengthened our commitment by integrating the SDGs into our 2020-2024 Business Plan, dedicating 80% of investments to at least 10 United Nations' sustainable goals.
SDG 3 – ENSURE HEALTH AND WELL-BEING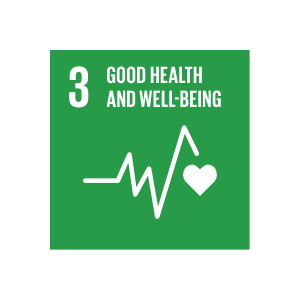 We promote a safe and healthy work environment and we are committed to reducing pollution through our products and services.
Actions:
By 2020, halve the number of global deaths and injuries from road traffic accidents. We work to encourage the use of public transport by monitoring accidents and injuries that may occur at our plants, including road accidents.
Achieve universal health coverage by widening access to quality healthcare services and medicines.
We provide our employees with supplementary health insurance and have developed a nursing care model for patients in care homes and clinics.
By 2030, reduce the number of deaths and illnesses due to pollution and air, water and soil contamination.
We are working to decrease emissions, CO2 and greenhouse gases, to provide clean heat through district heating and to minimise energy waste, with the ultimate goal of additionally avoiding 303 kt of CO2e.
SDG 5 – ACHIEVE GENDER EQUALITY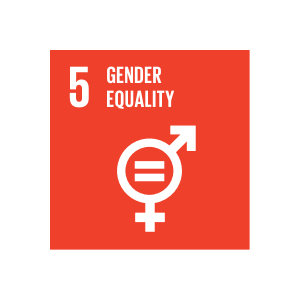 We are committed to achieving gender equality and empower all women and girls
Actions:
Recognise and value unpaid care and domestic work through the provision of public services, infrastructure and social protection policies, and the promotion of shared responsibility within the household as per national characteristics
We are a family-friendly company; we were awarded a "Family and Work Audit" certification that, through systematic objective and documented processes, encourages keeping a balance between work and family life. In addition, we have implemented part-time opportunities for managerial positions, flexible working hours and support systems for parents.

Ensure full and effective participation and equal leadership opportunities for women at all levels of decision-making in political, economic and public life
We are working to attract more women into technical roles through public and staff awareness events. In addition, in order to ensure the correct management of issues related to diversity, a Diversity Manager has been appointed with the task of facilitating the implementation of gender equality initiatives. As part of these initiatives, we launched a mentoring project for the integration and enhancement of specific skills pertaining to different generations of employees in key roles and talents employed in the Group.
SDG 6 – ENSURE AVAILABILITY AND SUSTAINABLE MANAGEMENT OF CLEAN WATER AND SANITATION FOR ALL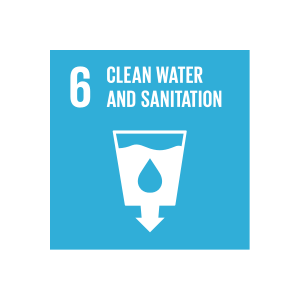 We optimise water network management, reduce the impact of our activities and are committed to protecting the aquatic environment
Actions:
By 2030, implement integrated water resources management at all levels, including through cross-border cooperation as appropriate.
We have implemented several consultation initiatives with local communities, with the aim of involving them in the management of water resources. Following these initiatives, various agreements have been put in place, such as the provision of water necessary to protect orchards from night frost during the spring flowering period and the definition of precise criteria to identify any critical issues related to climate risks.
By 2020, protect and restore water-related ecosystems, including mountains, forests, wetlands, rivers, aquifers and lakes.
We want to minimise the impact of our hydroelectric plants on nature and the environment, actively safeguarding the biological diversity of waterways. We have implemented various measures to reduce the impact of hydroelectric plants on the environment, such as the building of new fish ladders, the implementation of sediment management programmes and the renaturation and restoration of the original landscape where plants have been decommissioned.
SDG 7 – AFFORDABLE AND CLEAN ENERGY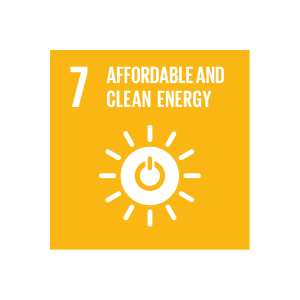 We ensure access to affordable, reliable, sustainable and modern energy systems.
Actions:
By 2030, ensure universal access to affordable, reliable and modern energy services
We want to ensure a secure and efficient energy supply, which is why we are investing in the development of sustainable energy solutions and in the retrofitting of our plants and networks, replacing old-generation transformers with vegetable oil and low-noise ones; we also carried out aerial inspections, resulting in the cutting of trees and the burying of power cables to improve the resilience of the electricity grid.
By 2030, significantly increase the share of renewables in the global energy mix.
We aim to primarily produce our energy from renewable sources (our current rate already amounts to 95%), and we promote a sustainable supply by ensuring the engagement of our providers. We aim to increase this percentage through: targeted investments (for example, the construction of the biomass plant in Merano, the launch of district cooling in the Bolzano power station); the adoption of new business models, services and products – such as green gas – which improve our customers' energy efficiency; the monitoring and reporting on the amount of energy produced, purchased and consumed by type of source. Furthermore, we want to be a partner for the energy transition for our stakeholders by providing specific consulting services.
By 2030, double the global rate of energy efficiency improvement
We want to make our energy consumption more efficient, which is why we are taking steps to reduce the energy consumption of our buildings and plants through targeted initiatives. Such as, for instance, starting the ISO 50001 certification process for the Group's plants, increasing the efficiency of heat production in Chiusa, including cogenerators for self-consumption in Chiusa and Merano. We are also developing new technologies and new services that will further improve energy efficiency and reduce energy needs, as well as new products, services and business models that will help our customers to optimise their own energy needs and enhance their efficiency.
SDG 8 – DECENT WORK AND ECONOMIC GROWTH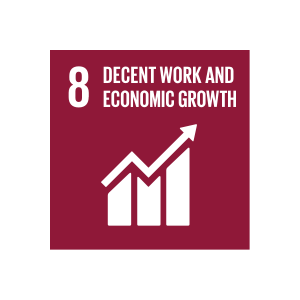 We promote inclusive and sustainable economic growth and decent and secure employment
Actions:  
By 2030, achieve full and productive employment and decent work for all women and men, including young people and people with disabilities, and equal pay for work of equal value.
We have harmonised the Alperia Group's trade union agreements and HR policies with the aim of providing uniform and fair framework conditions for all our employees.
By 2020, substantially reduce the percentage of young people who are neither employed nor undergoing education or training.
We want to support our employees in their development process. To support the generational shift, we are developing policies aimed at attracting and training new resources and facilitating the sharing of knowledge within the company.
Protect labour rights and promote a safe and secure working environment for all workers, including migrant workers – women in particular – and those in precarious employment.
We actively promote the health of our employees, guaranteeing the highest level of workplace safety to protect staff, the population and the surrounding areas. We have adopted plant monitoring and maintenance measures and support well-being initiatives in all our sites. We have started the installation of 30 Red Cross and White Cross semi-automatic defibrillators, to be used both inside and outside Alperia sites and at some customer service offices. Moreover, to protect employees from COVID-19 infection, we have created an Emergency Board that has implemented all the measures required by law, as well as some additional measures deemed suitable to minimise risks.
SDG 9 – INDUSTRY, INNOVATION AND INFRASTRUCTURE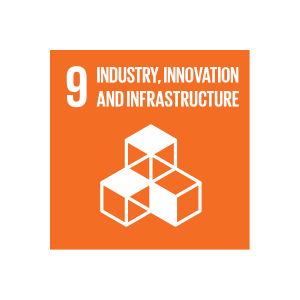 We build and maintain safe and resilient infrastructure, foster innovation and support equitable, responsible and sustainable development
Actions:
Develop high-quality, reliable, sustainable and resilient infrastructure to support economic development and human well-being, with a focus on equitable access for all.
We have planned an investment of €88 million in Smart Region initiatives – self-financed until 2021 (rising to €700 million by 2024) – plus further asset and process digitalisation projects amounting to €18 million. We have decommissioned unreliable MV and LV lines and are using fibre optics for greater reliability in plant control. We have launched specific Smart City and e-Mobility plans and are building new offices on via Claudia Augusta in Bolzano. In addition, we intend to further improve the quality and efficiency of our one-stop emergency hotline and are developing and testing phase change tanks for thermal energy storage and refrigeration.
By 2030, upgrade infrastructure and retrofit plants to make them sustainable and more efficient in terms of resources used, and increase the adoption of clean and environmentally friendly technologies
We want to ensure a safe and efficient energy supply through increasingly modern distribution networks, by optimising the maintenance and efficiency of our infrastructure.
Strengthen scientific research, promote the technological expertise of industrial sectors globally, encouraging further innovations by 2030 and substantially increasing the number of workers in the research and development sectors.
We want to actively contribute to the future of energy and develop new technological solutions through innovative research projects. Our Innovation Board works to develop innovative sustainability-oriented projects, and we also support innovation-related projects such as the Alperia Startup Factory
SDG 11 – SUSTAINABLE CITIES AND COMMUNITIES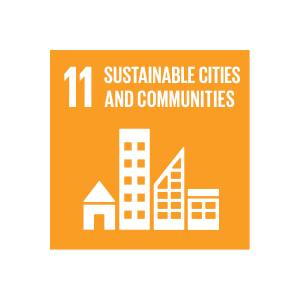 We want to make cities more inclusive, safer and more energy efficient
Actions:
By 2030, reduce the negative per capita environmental impact of cities, including a focus on air quality and municipal and other waste management
With Smart Region, Alperia is dedicated to the creation of a sustainable, integrated and efficient community through the implementation of high-tech initiatives, the introduction of an integrated digital infrastructure that comprises public lighting, optical fibre, charging points, video surveillance and IoT sensors allowing for the collection of data and information outlining the energy behaviour of the city and its community. This will permit us to make decisions resulting in a more efficient operation of the urban system and in savings for the whole community, thanks to greater efficiency in energy consumption. Furthermore, in collaboration with Regalgrid Europe, Alperia has developed a project dedicated to energy communities. The goal is to locally provide energy generated by production plants powered by renewable sources – photovoltaic and wind energy – so that more producers/consumers within an Energy Community will benefit from it.
SDG 12 – RESPONSIBLE CONSUMPTION AND PRODUCTION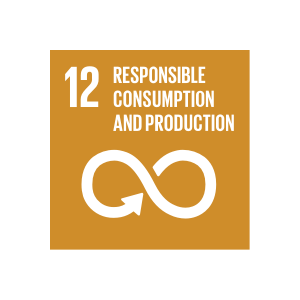 We promote sustainable models of production and consumption
Actions:
Encourage businesses, especially large and transnational companies, to adopt sustainable practices and integrate sustainability information into their reporting cycle.
We have consolidated environmental, social and economic sustainability into our governance and management processes. We have implemented a Sustainability Plan and a Sustainability Policy, and we have placed sustainability at the heart of our Business Plan by integrating the United Nations' SDGs.
Promote sustainable public procurement practices, in accordance with national policies and priorities
Through our supplier selection process, we are aiming to make our procurement as local, environmentally and socially sustainable as possible.
SDG 13 – CLIMATE ACTION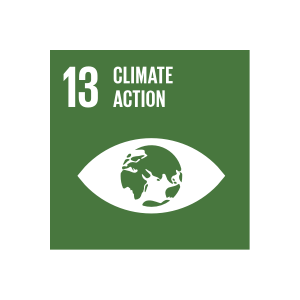 We take specific action to combat climate change and its consequences
Actions: 
Strengthen resilience and adaptability skills related to climate-related hazards and natural disasters worldwide. Integrate climate change measures into national policies, strategies and plans. Improve education, raise awareness and enhance human and institutional skills related to climate change mitigation, adaptability, impact reduction and early warning
Although we achieved carbon neutral operational emissions (Scope 1 and 2) in 2020, when we updated our Business plan we nonetheless set ourselves the goal to further improve the emissions related to Scope 3 and thus accelerate the path to Net Zero. We estimate that these initiatives will result in over 280 kt of CO2 avoided, in 85% of our customer base supplied with green products (both electricity and gas), and in over 22 million cubic metres of water (equivalent to the annual consumption of 100,000 households) saved. Finally, we constantly assess and update our risks according to climate changes, we invest in the production and use of products with lower greenhouse gas emissions, and we encourage the development of internal and external e-mobility solutions.
SDG 15 – LIFE ON LAND
We ensure the conservation of ecosystems and the protection of biodiversity, also through the use of innovative technologies
Actions:
By 2020, ensure the conservation, restoration and sustainable use of terrestrial and inland freshwater ecosystems and their services. By 2030, ensure the conservation of mountain ecosystems, including their biodiversity, in order to enhance their crucial ability to benefit sustainable development. Take urgent and significant action to reduce the degradation of natural habitats, halt the loss of biodiversity and, by 2020, protect and prevent the extinction of threatened species. Foster the fair and equitable sharing of benefits arising from the use of genetic resources and promote adequate access to these resources, as per international agreements.
We endeavour to protect the environment and its biodiversity, also in compliance with the compensation measures set out by the Autonomous Province of Bolzano. For this reason, we carry out several activities aimed at consolidating fish stocks, we build ladders for fish in intake works, we improve water courses and oversee the monitoring and management of Minimum Vital Flow. Furthermore, we have begun to implement measures to promote the sustainable use of water, in collaboration with local farmers and municipalities.